Impress Your Friends with this DIY Facebook Costume
---
Chelsea Oliver | October 22, 2015
Halloween is almost here and it's time to impress the whole party! A great costume requires advance planning and we've got the idea for you – social media. Despite the emergence of a number of other networks, Facebook is still relevant and popular in 2015. Take the plunge and dress up as either your personal profile or the profile of a celebrity, comedian or other prominent public feature. Simple to create, you need an afternoon and some basic supplies. Read on for how-to steps.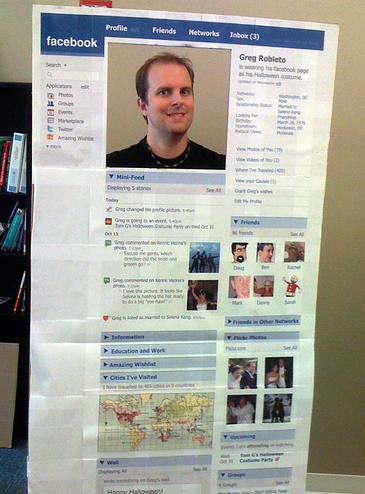 Image via Flickr, paul.klintworth, CC license, no changes made
Materials
Cardboard
Construction paper
Measuring tape
Markers
Hot glue gun
Hot glue sticks
Scissors/exacto knife
White board paper (optional)
Dry erase markers (optional)
Empty paper towel or toilet paper tubes
How-To
1. Using a measuring tape, cut a large piece of cardboard to approximately 2.5 feet across by 4 feet long. Adjust these measurements according to how large you want your Facebook profile costume to be.
2. In the upper left hand corner, cut out a square. This is where your face – or profile picture! – will shine through.
3. Using construction paper and hot glue, decorate the front of the cardboard profile to resemble a Facebook page. Get creative with markers and, if desired, website print-outs. Don't forget the blue and white colour scheme. Exercise caution using a hot glue gun.
4. If desired, glue a sheet of white board paper to your cardboard profile. If you go this route, don't forget to carry around a couple of dry erase markers so your friends can add funny status updates and wall posts during the party!
5. To secure your costume, hot glue an empty paper towel or toilet paper tube to each side on the back. Use these as handles.
6. If you are going as a celebrity or character, add makeup and dress the part!
Do you have any ideas for social media Halloween costumes? The Yabsta team would love to hear what you're up to! Let us know on Facebook or Twitter.
Category: Creative & Design, Digital Culture, Social
Tags:Tags: DIY Costume, DIY facebook costume, DIY facebook halloween costume, facebook halloween costume, Halloween, halloween costume inspiration, Halloween costumes