10 Ways To Get Your Blog Posts To Go Viral
---
Kristen Scott | October 21, 2014
Wondering whether it's even possible to go viral without a million dollar budget? It most certainly is. While having quality content is one thing, you have to put in a little bit of work to make it go. Most of the time, if not all of the time, this means that you have to place it in front of readers' eyes in order to be found through all the noise. Below are 10 ways to get your blog posts to go viral.
1. Optimize Your Post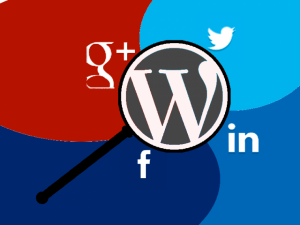 If you've been here before, you will already know the importance of using keywords in your blog posts. A recent study by blogger.com from August 2014, shows that although 60% of businesses have blogs, 65% of those spaces haven't been updated in the past year. So whether you're old or new to us, we suggest that there's nothing wrong with giving all of your posts an SEO review.
It's important to keep your content fresh and modestly packed with keywords that are relevant to what people are searching for today. Not to mention, adding SEO to your images which are just another opportunity to be found on the web.
2. Facebook, Twitter and Pinterest
If you don't have time for anything else, Facebook, Twitter and Pinterest are your main channels through which to send your posts out to the sphere. If you didn't catch it, our latest piece taught you how you can create Social Media Posts on the Fly using our Professional Online Marketing Toolkit. Sending your post through these channels will be the first place to go and will continue to get you the same amount of attention—so far this is probably getting you likes, but we can do better.
3. StumbleUpon
StumbleUpon was founded in 2002 and is a discovery engine that finds and recommends web content to its users—being you. After you sign up for an account you are able to "stumble" and rate different blogs and webpages, and others will be doing the same for you. This means that you will be getting more views that can translate to more likes and shares of your content.
4. Google +
Many people have created an account, but aren't really sure how to maximize its use. In their Complete Guide, Mashable asks users why someone should use Google+. They received over 500 positive responses advocating for the platform including: "a cleaner way to selectively share data with others," "a lack of distracting elements," the ability to "share based on mutual interests and get exposure to interesting people and ideas". Google+, at the end of 2013, was receiving 1.2 million page views per month.
5. Delicious
Similar to StumbleUpon, Delicious is a social bookmarking web service for discovering new web pages according to interests. They make it very simple to add web pages.
6. Friends and Colleagues
Don't be shy about asking friends and colleagues to share your content. As long as it's quality (which we already know that it is), your associates won't mind giving it a little push. The more people in your circles you get to pass it on means more exposure to their circles and so on.
7. Link to Your Own Past Blog Posts
Wherever possible, link to your past blog posts. Just because it was written last month, doesn't mean that it isn't still relevant to your reader. Presenting them with a link lets them know that it's there. By doing this, you're still adding to the virality of your past posts while simultaneously enhancing the information on your most recent—creating more reason for people to share.
8. Reference Other People's Blog Posts
Referencing content from other people or businesses with the same interests helps you to get noticed. Directing people to other experts in your field shows that you are familiar with the leaders in your industry, the literature that they write and you aren't afraid to share the wealth. These people will come to you for their next question.
9. Add it to Your Newsletter
If you are writing for a business blog, they may send out a monthly newsletter to keep your potential customers updated on the latest news in your company. You'll want to secure a spot to include a summary of your posts for the month—these readers are actually interested in receiving your content.
10. Add it to Your Signature
Adding your URL to the bottom of your email signature is simple, but effective. Add the name of your blog plus a path to click and you've instantly increased the potential eyes on your space. You'll be promoting your content without even thinking about it.
Optimizing your post, shameless social media posting, subscribing to social bookmarking sites, sharing within your own circles, back-linking, using your company newsletter and adding to your email signature are all ways to make your blog posts go viral. Add these steps to your marketing mix when promoting your blogs and watch your numbers immediately increase.
Let us know the results with any comments or questions on Facebook.
Category: Development
Tags:Tags: blast, blogging, business, content, content marketing, marketing, newsletter, social media, tactics, viral