What Is Native Advertising?
---
Chelsea Oliver | August 26, 2014
Native advertising is growing in popularity and small business owners everywhere need to understand what it is and why it's beneficial. It is defined by ShareThrough as "a form of paid media where the ad experience follows the natural form and function of the user experience in which it is placed." To expand on this, native ads match the visual appearance of the content they are placed in, thus looking and feeling natural. They function naturally and are consistent in behaviour with the native user experience.
A big industry buzzword, native advertising is being adopted by today's Web giants at a staggering pace. Unlike more traditional forms of online advertising, such as display and banner ads, native ads are non-disruptive and, most importantly, relevant (think pastry tips for baking aficionados). They fit into the UX seamlessly and offer value, arguably the most important aspect of content marketing.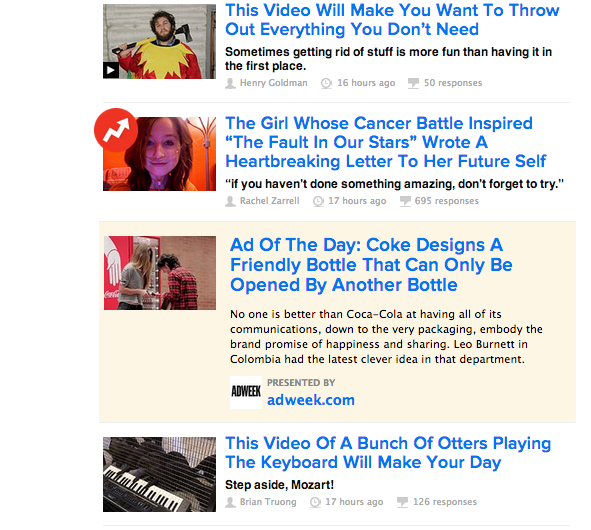 Seen on websites like Buzzfeed, Twitter, YouTube and more, let's take a closer look at the example shown above. If you look closely at the article entitled "Ad of the Day: Coke Designs A Friendly Bottle That Can Only Be Opened By Another Bottle" you'll see that it is presented by adweek.com on Buzzfeed. A clever example of native advertising, it fits right into the layout of the homepage, distinguished only by the immediate background colour. The topic suits the site's typical content stream; it flows seamlessly and provides value on the basis of unique, interesting information – don't you want to see this cool new bottle?
Native advertising is the new "it" thing because it offers what traditional advertising does not. According to Dedicated Media, it generates an 82% increase in brand lift and purchase intent is 53% higher for native ads. Viewed over 50% more than banner ads, native ads are read for nearly as much time as editorial content – 1.2 and 1 second respectively, according to Sharethrough. The icing on the advertising cake? Click-through rates for traditional display ads dropped significantly in recent years, from 9% in 2000 to 0.2% in 2012.
Native social advertising revenues are predicted by BIA Kelsey to grow to $4.6 billion by 2017 and it's time to hop on board. The case in favour is strong and knowing the basics is the first step in a new direction.
Category: Digital Culture, Marketing
Tags:Tags: ads, advertising, business, business advertising, native advertising, native advertising definition, paid media, small business, what is native advertising