Whether you use social media for business, pleasure or both, an informative profile is key to success. In Part 1 of this series, we discussed how to put your best foot forward on LinkedIn and now we're moving on to Twitter. A much different social platform than the former in terms of professionalism, purpose and functionality, Twitter is a great way to get found on the Web. Polish your profile in no time with these 5 tips.


Upload a Photo
Choose a profile picture that represents you. Similarly to LinkedIn, a professional headshot is the way to go, complete with a smile. Avoid using a group photograph or an action shot, such as one including a friend or significant other. While a surprising amount of "tweeters" don't upload an image, Hubspot states that profiles with photos are 10 times more likely to be followed. Improve consistency among your social media profiles by using the same profile picture throughout.
Location, Location, Location
Often overlooked, accurately filling in the location field on your profile is an important step. Choose the largest, and closest, area or city to you, and if you already reside in a big city, that's even better. Highly searchable, listing your location makes it easy for other users to find and follow you.
Build Your Bio
Including an interesting biography is a great way to shine on this network – make the most of the 160 characters you're given! Describe yourself in an upbeat, succinct way – let fellow users know there's a human being behind that handle. Avoid excessive hashtags and abbreviations and remember that work-safe humour can go a long way. Include relevant keywords to boost your profile's SEO value.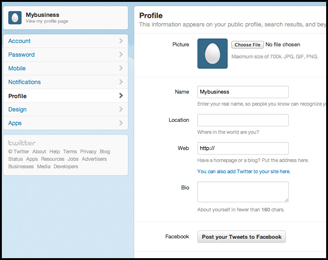 When In Doubt, Link to LinkedIn
A great way to advertise your small business, personal website or blog is through a link on your Twitter profile. However, some users don't have any of the above and are stumped as to what to include there. Linking to your LinkedIn profile is a great way to provide users with more information about you, personally and professionally, and avoid a blank space.
Go The Extra Mile
Instead of picking a pre-made theme, customize your profile with specially-designed background and header photos. This gives your Twitter account that little extra oomph and allows you to stand out from the crowd. Choose images that represent and complement your goals. A small business owner, for example, may use their company logo as a header and a background that aligns with the design of their website.
When it comes to polishing your Twitter profile, getting the best results means getting involved. Take the time to draft and edit an engaging bio and opt for a photo that showcases you at your best, without distractions. Add keywords to your bio and an accurate location to increase your chances of getting found via search engines. Include a link to a relevant website, blog or networking profile and gussy it up with custom-designed header and background images.
Image Credits: MyCorpSocial & UpCity