For small business owners who fully embrace social networking as a marketing medium, one of the trickiest things to decide is whether to operate your Facebook, Twitter, LinkedIn etc. by yourself or seek outside social media management services. While managing multiple platforms on your own may seem like the ideal path cost-wise, consider this: according to a 2012 usage report, 59% of marketers spend over 6 hours per week promoting their businesses on social, and 33% spent 11 hours or more. What this means is that if you're going the solo route, you have to be able to commit at least six hours per week in order for your efforts to be minimally effective, otherwise you're just wasting your valuable time.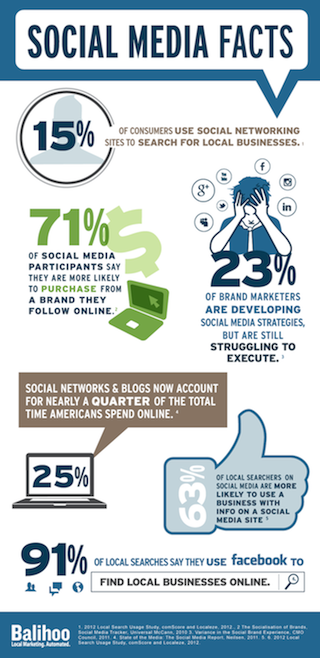 This is understandably a big decision: outsourcing your social efforts is tantamount to handing over the keys to your brand messaging, since you're essentially agreeing to let someone else speak under your company voice. The case for doing so, however, is sound: according to Forbes, over 60% of small business owners who tried managing their social accounts by themselves saw virtually zero return on investment in the first quarter or 2013 because they weren't doing it correctly. If you're willing to take that step and let the experts handle it, choosing the right online marketing team is essential, as the closer a relationship you have with your marketers, the more personal and sincere their Tweets, Facebook posts and all other interactions will come across as. In a nutshell, personalization of messaging combined with adherence to social media fundamentals is the key to success, which is why businesses that use social channels the right way end up with nearly double the leads of businesses that don't.
Go Boutique For Communication's Sake
Sometimes less is more. Small boutique design agencies typically have hyper-focused, close-knit teams that cover all core areas of web marketing (design & build, SEO, social, blogging, development) while offering the crucial element of close client communication. Choosing an agency that allows you to have regular Skypes or conference calls with the actual person who will be posting under your company's name makes an enormous difference. For all their experience and wide client bases, large agencies usually don't offer that personal touch unless their internal communications are extremely streamlined (which, trust us, is rare).
Brand copywriting for social media is a sensitive beast: the exact words used in your individual posts and tweets can mean the difference between leads generated and going completely unnoticed. Without knowing the fundamentals and best practices behind how to engage your social audience, it's difficult to get value out of your time commitment if you're managing your profiles yourself. In other words, setting aside a budget for boutique-style social media management services may be one of the best marketing decisions you ever make.
Image Credit: Angel Investment Network