I've spent a lot of time on this blog deconstructing the concept of Search Engine Optimization (SEO) and framing its benefits. It is important for web advertisers to explore and understand other available options including SEM, Social, Banner Ads or a healthy blend of all of the above. In this post I'll explain the basic concept of local SEM and how it can draw targeted traffic to your website using what is ultimately the same logic as SEO.
SEM is very similar to SEO, the key difference being that you're paying the search engines directly to get your website seen as opposed to optimizing the site yourself so that it's likely to happen naturally. It's worth mentioning that SEM is how Google makes the vast majority of its profits. Put simply, you choose a set of keywords that Google thinks you're likely to get found for (given budget and location), then they gives you a rough estimate of how much your credit card will be charged every time someone clicks through to your site.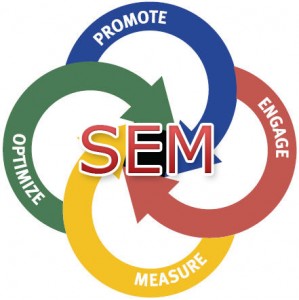 Like anything in life, there are pros and cons to SEM, particularly on a local level. Pro: you're getting hyper-focused data from the world's largest search engine; Con: the smaller and more specific your desired market, the less likely Google is to know how to target it. Take the island of Bermuda, for example. As one of our target markets, we're constantly perplexed at the lack of search marketing attention paid to this location. As it stands, the only type of Bermuda businesses currently getting indexed on Google Places are restaurants and hotels, with other fields being unable to set up a listing. Basically, if you run a small business in what Google deems to be an obscure location that falls outside of those two fields, you might not be able to leverage the full benefits of SEM.
Another thing working in SEM's favour is Google's recent decision to encrypt all of their keyword data for organic searches, meaning they'll soon be taking away free access to specific statistics, i.e. our ability to see how many people are searching for given keywords on a month-to-month basis. With this development, any small business owner who currently uses the Google AdWords keyword tool to sniff around as to what his/her potential customers might be searching for will now have to either choose a different strategy or bite the bullet and start paying for local SEM.
If you plan to start an SEM campaign for your local business, there are a few things to consider. First and foremost: it's complicated. Despite Google giving you a trove of data and search marketing tools to tinker with, there's still a trial and error period where you'll have to test which ads/keyword combinations work, and which don't. Without the proper guidance, you're likely to end up wasting money initially. Secondly, just like with SEO, SEM requires an ongoing time commitment that many business owners are unable to commit to, and don't feel comfortable delegating to one of their employees for lack of experience. If you understand the importance of web traffic but are unable to commit your time to increasing it, it might be time to enlist professional services to make use of this fantastic tool.