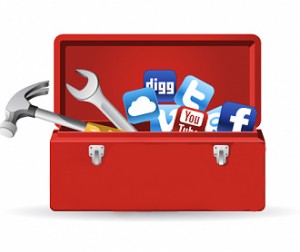 You may have noticed the abundance of apps scattered across the Internet, many claiming to simplify and streamline social media management for your business.
Since different platforms require different ways of thinking—Facebook posts are longer than those for Twitter, which have a different voice than LinkedIn status updates —there's no real cut and paste. We have, however, put together this toolkit to help you create better content, faster. Bookmark this Online Marketing Toolkit for templates, tips and tools that you can use over and over again to enrich your social media accounts, your business blog and even your company website.
Building an Editorial Calendar
Where are you in your business blogging journey? Whether you've just started or have been blogging for years, it's helpful to create and refer to a well-thought out editorial calendar. However, there's no need to re-invent the wheel – check out the Blog Content Planning Guides and Editorial Calendar Templates by B2BInbound to get you started.
Creating the Title for Your Blog
Need help filling that calendar with ideas? While the content is up to you, there are many scientifically proven ways in which to effectively present your ideas. Are you going to be doing a case study this week or just covering the basics? This list, brought to you by Freelance Writing Solutions gives you great templates for possible blog titles that will catch a reader's eye. No muss, no fuss.
Writing a Blog Post
As important as your business blog is, the more time you can save while still creating quality content, the better. B2Binbound suggests using their blog template that takes you through a checklist for creating valuable but concise articles, consistently. Creating your own template can be a great way to maintain your voice when inviting informed colleagues or guest bloggers to write a piece.
Downloading Images Quickly and Legally
We've talked in the past about the importance of images in breaking up wordy text and visually representing ideas. There are tons of places online such as Free Images and Google Image Search that allow you to search a single keyword and receive great quality images for free. Google Image Search now has the option to search images by usage rights and is a leading site to find free stock photos for your blog.
Resizing Images Without Photoshop
In order to maximize space, it's important to be familiar with the image sizing guidelines pertaining to Facebook, Twitter, LinkedIn, Google+ and other platforms. Socially Stacked's The Ultimate Social Media Template Guide offers interesting tips and tricks and lays out the recommended dimensions for a wide range of social networks.
Now that you know the right sizes, upload your image into iPiccy and either resize or crop the photo. You can also apply beautiful photo effects and filters, all within seconds and completely free.
Sending Your Content to Different Channels
Now that your blog post is done, marketing it through your different channels will be a breeze with these helpful social media templates that offer effective options for building your statuses faster.
The Next Web's templates will help grow your Facebook Page, while HubSpot is ever helpful on Twitter and all other social media sites.
Recycling Old Content
You don't need a skilled graphic designer to recycle existing content into something exciting and new. When the time comes, Simple Booklet lets you turn your existing marketing collateral into web-based booklets that you can then post across social networks, email and embed on your website.
Checking for Spelling and Grammar
Even the work of the best copywriters and content creators requires a second look. Save time by slipping your content—whether it be a lengthy blog post or a short Facebook status—into Online-Spellcheck.com to ensure it is polished and typo-free.
Voilà!
Instead of re-inventing the wheel, visit these resources for help creating an editorial calendar outline, writing blog and social media posts, downloading and resizing images, breathing new life into old content and proofreading. Save time and enrich your content with this Professional Online Marketing Toolkit and send it to your friends!
What are your favourite tools to use? Let us know in the comments or on Facebook.